Reading Time:
4
minutes
Between the months of July and August, the Amarnath Caves is accessible. This period is called "Shravan" according to the Hindu calendar. At about 3,888 meters high, Amarnath caves attract thousands of pilgrims to trek along the strenuous route to seek the blessings of Lord Shiva. This article will cover the queries related to Amarnath Yatra 2019.
Amarnath Yatra 2019 Dates and Registration
The official date for Amarnath Yatra 2019 is from July 1st to August 15th. Off all the registered applications, the Amarnath Board (Shri Amarnathji Shrine Board) has decided to allow only 7500 pilgrims for the yatra.
Here's a link for Amarnath Yatra 2019 registration form.
Since 2014, Shri Amarnathji Shrine Board allows group registration for pilgrims traveling in a group. However, the health checkup requirements remain the same at the individual level.
About Amarnath Caves
Amarnath cave is the holy abode of Lord Shiva, where he explained the secret of life and eternity to his wife Parvathi. The more fascinating part is, there is no permanent idol of Shiva or Shiva-lingam to denote the place. The ice stalagmite waxes during May to August resembles Shiva Linga and wanes thereafter. On the same spot, there are two more ice-formations, which are the representations of Parvathi and their son Ganesha.
Historians approve the Amarnath caves to be more than 5000 years old. The ice-formations every year, despite climatic changes are a miracle and the fact which strongly binds people's faith in the lord.
Reaching Amarnath Caves
Most of the journey is carried on foot or on the back of mules to reach the caves. The three milestones to reach Amarnath involves-
Reaching Srinagar via train, flight, or road.

Reaching Sonamarg or Baltal via state transport buses or private cabs.

Trekking to reach Amarnath caves.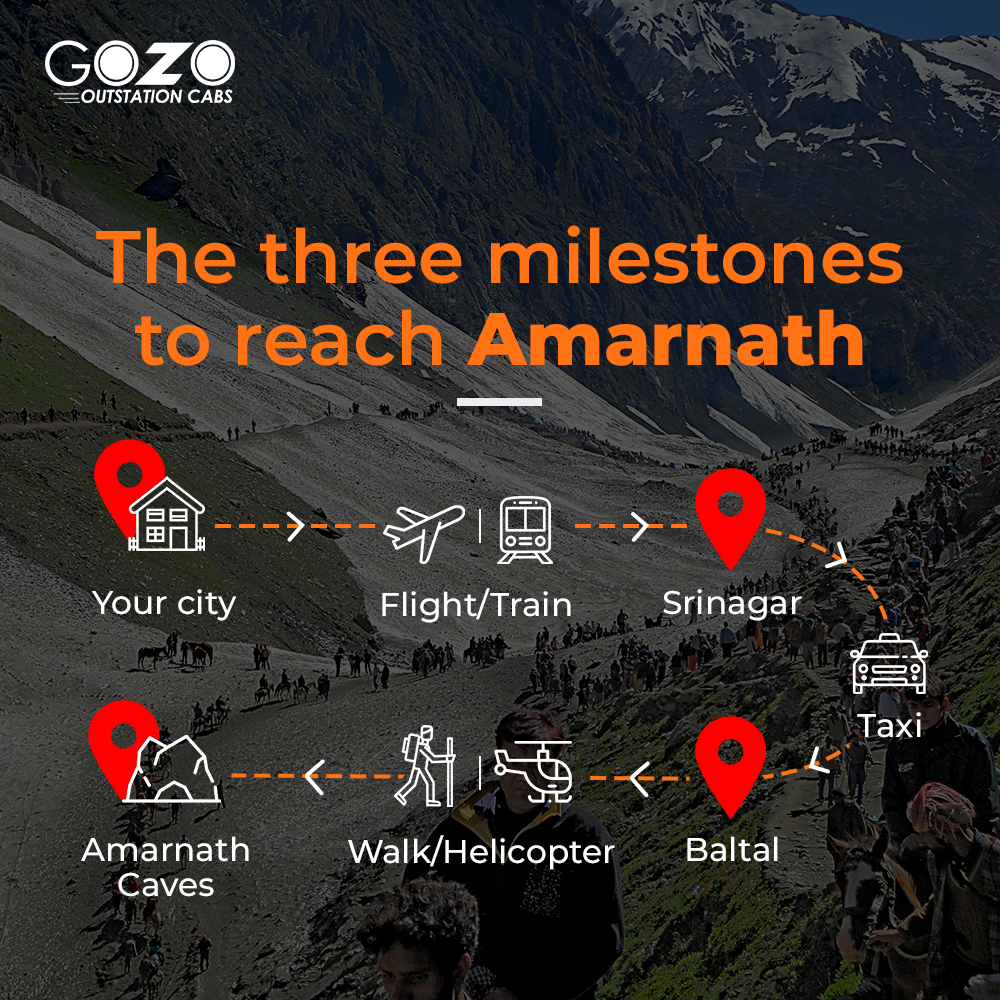 Following is the travel information to reach Amarnath in detail.
Reaching Amarnath Yatra Base
Some people also call it a base camp and this is the place from where the rest of the journey is to be covered on foot. Pahalgam and Baltal are the two base camps for starting your Amarnath Yatra. After reaching the base camp, the Amarnath Yatra takes 3-5 days depending on your speed and schedule.
To reach Amarnath Yatra base, you can take public buses or private cabs. Following are the more clarifications on the route you're taking.
If you're traveling by air, you can book a cab from Srinagar airport to Sonamarg, which is about 15 kilometers from Baltal. Baltal base camp is closer than Pahalgam base. Srinagar to Sonamarg is about 80 kilometers and some operators agree to take you to Baltal on the occasion of Amarnath Yatra.
If you're traveling by train, Jammu-Tawi railway station would be closer to reach Baltal. From this station, you can get a cab or bus to reach Amarnath Base.
If you're pursuing Amarnath Yatra from Amritsar or Chandigarh, you'll be able to get cabs to Srinagar and further to the yatra bases.
From Yatra Base to Amarnath Caves
The Baltal route: This route is about 14 kilometers long but involves steep slopes. Moreover, ponies aren't allowed in this route because of safety reasons. However, if you find difficulty in climbing or walking on foot, Dandies are available. Dandies are the people who carry a seated-person on their backs to the caves. Through this route, you can cover the roundtrip in a day or two. Younger demographics can take this route.
The Pahalgam route: This is the traditional route and also the less complicated one. Most of the devotees prefer this route. This route involves about 48 kilometers long trek, but have the facility of pony-ride. It is safer and less steep than the Baltal route. People with medical conditions and aged demographics should take this route. The Amarnath Yatra via this route usually completes in 3 to 5 days.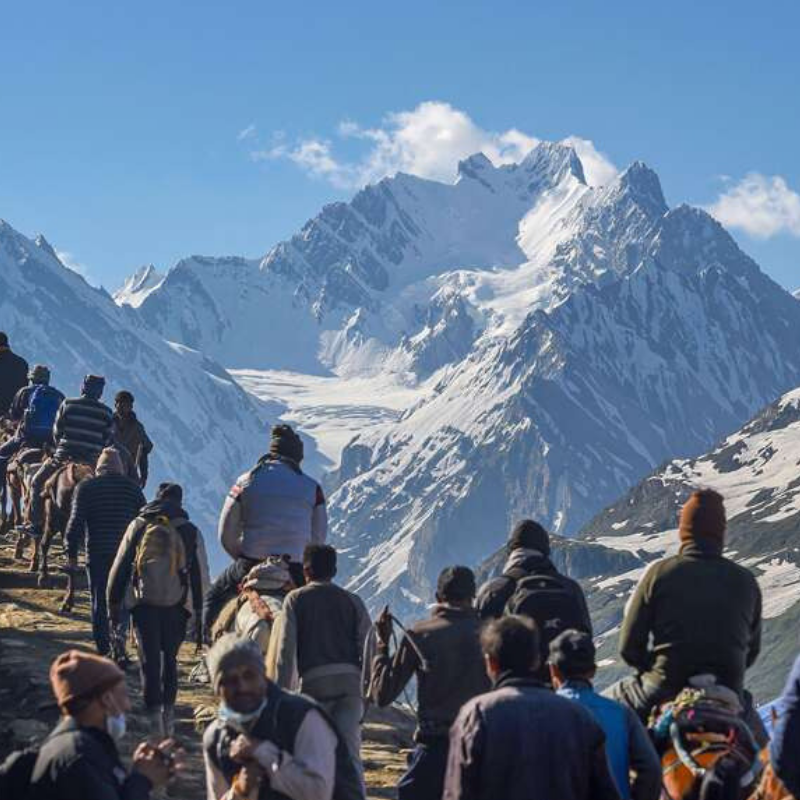 Amarnath Yatra helicopter services are also available from both of these base camps. Himalayan Heli Services Pvt Ltd and Utair India are the leading helicopter service providers for Amarnath Yatra 2019.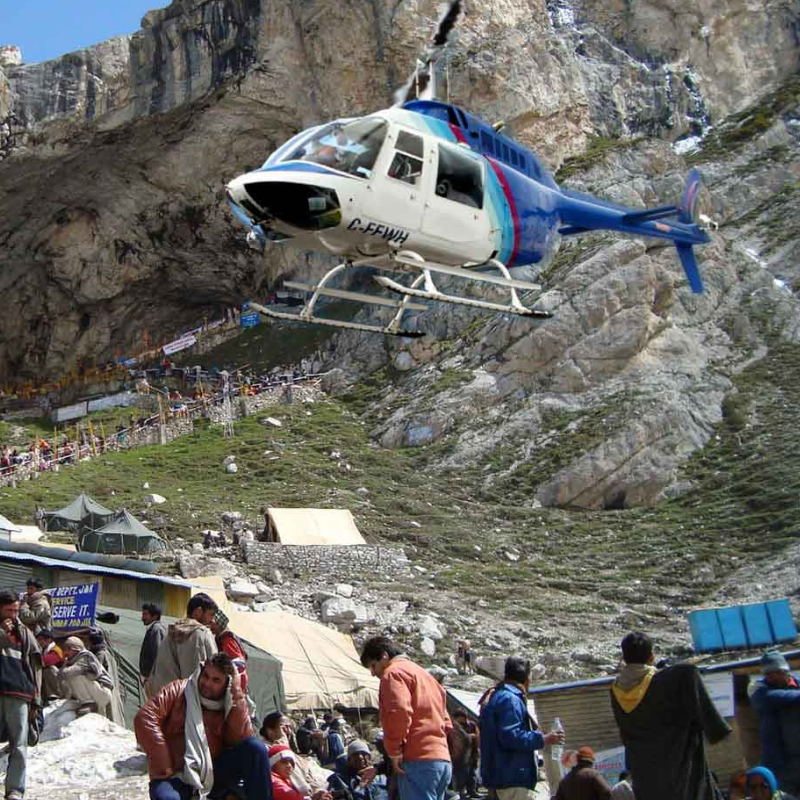 Amarnath Yatra Package
There are different available packages for Amarnath Yatra 2019 depending on pilgrims' requirement and budget. Amarnath yatra package from Delhi is available directly covering air and railway routes. Otherwise, most of the packages are starting Srinagar, Baltal, or Pahalgam; where the pilgrim is required to reach on his own.
Gozo Cabs has taxis available for transportation from Srinagar to Sonamarg and other regions.
Amarnath Yatra Restrictions
Since the journey to the Amarnath Yatra involves a difficult trek, therefore there are age and health restrictions to the travelers for safety.
Age restrictions for Amarnath Yatra: Children above 13 years and Adults below 75 years of age are allowed for the Amarnath pilgrimage.
Health restrictions: Pregnant women are advised not to take up this trek because of severe weather conditions and uneven route.
Here are health guidelines and suitability for Amarnath Yatra 2019. You can also find the compulsory health certificate to be issued by a certified medical practitioner for Shri Amarnathji Yatra 2019.
Feel free to reach us out for taxis for your specific requirements to facilitate your Amarnath Yatra. You can contact us at 9051877000 or write to us at info@gozocabs.com
Please follow and like us: