Reading Time:
4
minutes
Among the most populous tourist destinations in India, the life in Mumbai is quite soul-sapping for those who love to travel by road due to its grime and heavy traffic. Bored of spending weekends amidst these and want to rejoice and rejuvenate your mind and soul? Then a short road trip from Mumbai is the better choice for those who want to feel connected to the roads, nature, and the view. Luckily, the terrain of Western Ghats make for a lovely drive mostly, and sure to be an enlightening experience. Be it an off for a day, a weekend or a week, Pack your bags, start your motorbike or car and take off to these wonderful places near Mumbai. Here is the list of some fabulous road trips from Mumbai.
Mahabaleshwar
About 250 km from Mumbai, Mahabaleshwar, the highest hill station in the Western Ghats, is a little paradise nestled in the Sahyadri hills of Maharashtra. Among the popular weekend getaways from Mumbai and Pune, it is just a 6 hours scenic drive goes along the Mumbai-Pune expressway. The ride from Mumbai to Mahabaleshwar becomes a memory of beholding as the route is lined with scenic hills. Particularly in monsoon, this road trip will be more spectacular with many big and small streams on the way. One can also explore the Kaas Plateau of Satara, a UNESCO World Heritage Site which is just a short drive from Mahabaleshwar.
Alibaug
Situated on Mumbai – Goa highway, Alibaug is one of the closest and popular destinations for a weekend trip from Mumbai. At a distance of about 105 km, this beach destination of Maharashtra is crowded with tourists throughout the year. The 105 km drive via the Mumbai-Goa highway promises to be a fun-filled one and it also offers some fantastic photo opportunities. Extending shores, stunning beach, and the magnificent view of Kolaba Fort add to the pleasure of bike riders. There is an alternate route via Sion-Panvel Expressway and Karnala Bird Sanctuary for bird lovers. Don't forget to taste some lip-smacking seafood, go on tum-tum rides, and take a walk on the beach at sunset during your Alibaug road trip from Mumbai.
Malshej Ghat
Malshej Ghat is one of the most beautiful and scenic mountain passes in the Western Ghats. Striking waterfalls, lush green hillsides, and fascinating rock formations make Malshej Ghat one of the popular road trips from Mumbai and Pune. During monsoon season, the short drive of about 127 km from Mumbai to Malshej Ghat via NH 3 and NH 22 is even more blissful when the entire route is green and picturesque. This place is also a bird lover's paradise. It is home to several colorful birds including the cuckoos, the flamingos, and the quails. One can also explore Shivneri Fort, the birthplace of Chhatrapati Shivaji Maharaj, the great Maratha ruler.
You can reach Malshej Ghat via cab rentals. There are several outstation taxi service providers in Mumbai. For the best cab service in Mumbai, you can check their reviews, prices, and policies.
Lonavala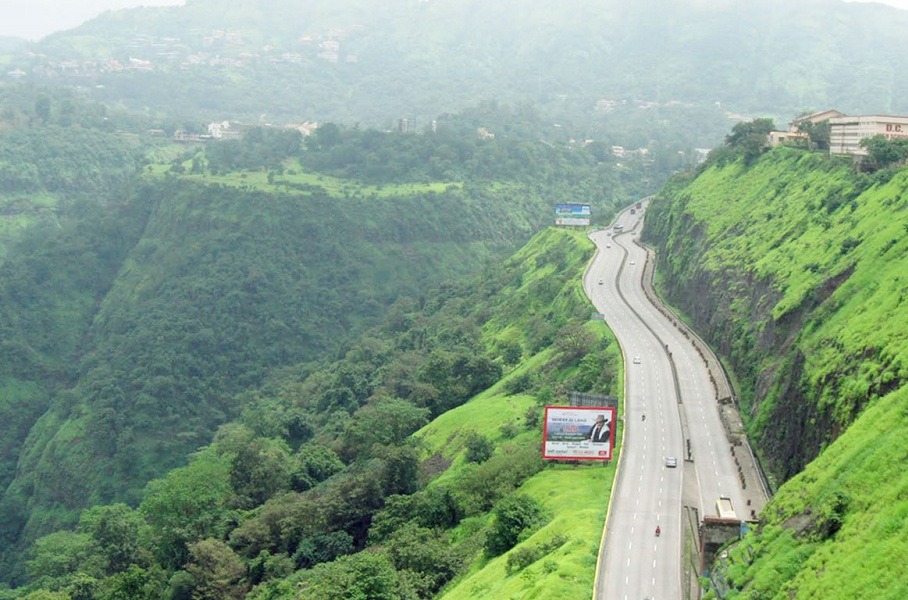 About 95 km away from Mumbai, Lonavala is a beautiful hill station. It lies at an altitude of 622 m in the Sahyadri Ranges of Maharashtra. Among the most popular weekend getaways from Mumbai and Pune, a road trip from Mumbai to Lonavala is a thrilling one. Especially during the monsoon season as the surrounding hills, are covered in the green blanket along with several seasonal waterfalls. Though a drive through Mumbai–Pune Expressway is an amazing experience in itself, two-wheelers are not allowed on this route. For two-wheelers, Old Mumbai–Pune highway is the route which is in really good shape, with hardly much traffic. Amazing roads, combined with an exquisite view, the drive from Mumbai to Lonavala is among the best one-day road trips near Mumbai.
Matheran
Among the top weekend getaways near Mumbai, Matheran is Asia's only automobile-free hill station. This short 83 km drive from Mumbai to Matheran via Sion-Panvel Expressway and MH SH 79 gives you an exhilarating experience with spectacular views, impeccable weather, and good roads. Except for Ambulance, no other private automobiles are allowed into this eco-sensitive zone of India. Tourists to Matheran have to drive up to Dasturi Point (2.5 Km). From there one will need horses or hand-pulled rickshaws to reach Matheran. One will surely fall in love with nature during this trip as it offers panoramic views of Prabhal Fort and its surrounding plains from various viewpoints along with some trekking options that the tiny hill station boasts of.
Read more about how Matheran is India's eco-friendly hill station.
Author:
Santhi Sadda is an avid traveler who works with popular online travel portal, Trawell.in. She loves visiting scenic places by road and spends some quality time amidst Mother Nature. She has a keen interest in writing about her road trip experiences along with travel tips.

Check out outstation cabs for your road trip from Mumbai for only ₹199.
Please follow and like us: