Shimla Hills Tour From Chandigarh
Chandigarh-Shimla(1N)--Shimla(1N)--Kufri(0N)--Shimla(1N)--Chandigarh(0N)--4D
On day-1 Pickup from Chandigarh, drive to Shimla. On day-2 Proceed for full day local sightseeing in Shimla. On day-3 Excursion to Kufri and also visit Mashobra-Naldehra. On day-4 departure.
Shimla:
Shimla, formerly known as Simla, is the capital city of the Indian state of Himachal Pradesh, located in northern India. It is bounded by Mandi and Kullu in the north, Kinnaur in the east, the state of Uttaranchal in the south-east, and Solan and Sirmaur to the south. The elevation of the city ranges from 300 to 6000 metres. Shimla is well known as a hub for India's tourism sector. It is among the top 10 preferred entrepreneurial locations in India. In addition to being the local hub of transportation and trade, Shimla is the area's healthcare centre, hosting a medical college and four major hospitals. The Kalka-Shimla railway line, constructed in 1906, added to Shimla's accessibility and popularity. The railway route from Kalka to Shimla has more than 806 bridges and 103 tunnels. In 2008, it became part of the UNESCO World Heritage Site, Mountain railways of India.
Chandigarh:
Chandigarh is a very popular tourist destination and heart for the business entrepreneurs lying to the north of Delhi. Chandigarh being the capital of both Punjab & Haryana and entranceway to Himachal Pradesh, there are many individuals travelling from Delhi to Chandigarh, and vice versa. Amongst the numerous ways to travel from Delhi to Chandigarh, the most pleasurable mode is to travel by road. For a comfortable journey in luxuriant settings, book our taxi services in most affordable rates.
Kufri:
Kufri is a small hill station in Shimla district of Himachal Pradesh state in India. It is located 13 km from the state capital Shimla on the National Highway No.22. Kufri with NH-22, Shimla district. The name Kufri is derived from the word kufr meaning "lake" in the local language. Bear in the Kufri zoo The highest point in the surrounding region,[1] Kufri has a Himalayan wild life zoo which hosts rare antelopes, felines and birds including the Himalayan monal, the state bird of Himachal Pradesh. During winter a meandering path through the potato plantations turns into a popular ski track.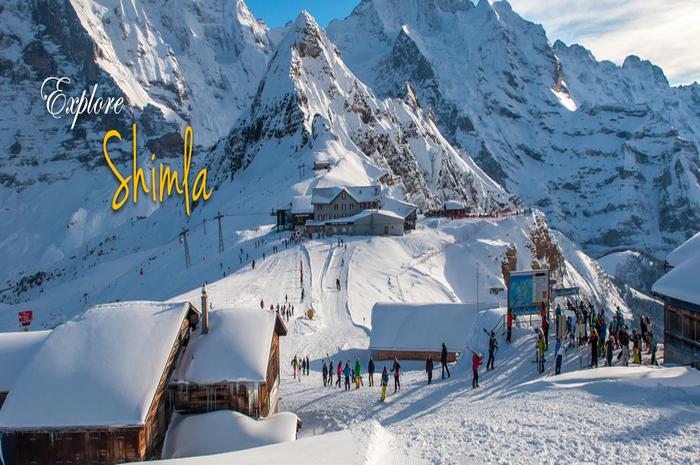 Day 1: Chandigarh To Shimla
Day 1 Chandigarh-Shimla Pickup from Chandigarh Airport/ Railway Station / Bus Stand by an exclusive vehicle. Drive to Shimla while enjoying the Scenic Himalayas from the window of your cab. Halt at Pinjore Garden and ropeway at Timber Trail Resort if time permits. Cab will pass through Kalka, Parwanoo, Barog, and Solan on the way to Shimla. Arrive, Check-in followed by an overnight stay in the hotel.


Day 2: Shimla To Shimla
Day 2 Shimla Local Sightseeing Visit the years old Tara Devi Temple, Sankat Mochan Temple, visit Indian Institute of advance Studies, Army Museum, Jakhoo temple. In the evening explore Shimla city on foot as vehicle entry is prohibited. You can see prime places of Shimla like Lakkar Bazaar, Ridge, Church, Mall road, Scandal Point, Kali Bari temple, etc. Overnight stay in the hotel.


Day 3: Shimla To Kufri
Day 3 Shimla-Kufri-Mashobra-Naldehra After Breakfast, visit the famous picnic spots around Shimla which include Fagu, Kufri, Naldehra, and Mashobra. Enjoy horse / Yak ride(at your own cost), see the Himalayan national park at Kufri and apple orchards at Mashobra, Golf course and Jungle walks in Naldehra.


Day 3: Kufri To Shimla
After sightseeing in Kufri head back to Shimla. Overnight stay in the hotel.


Day 4: Shimla To Chandigarh
On the last day of the trip, travel to Chandigarh and drop at Airport/railway station.