(Same day) Chennai to Kanchipuram & Vellore Package
Chennai-Kanchipuram(0N)--Vellore(0N)--Chennai(0N)--1D
The trip starts from Chennai, drive to Kanchipuram for sightseeing. Onwards to Vellore sightseeing. In the evening, head back to Chennai.
Chennai:
Chennai formerly known as Madras is the capital city of the Indian state of Tamil Nadu. It is famous for its culture and tradition. Chennai is the fourth most populous metropolitan area and the fifth most populous city in India. Its has the 2nd longest seashore in the world.Located on the Coromandel Coast of the Bay of Bengal. Chennai city had a population of 4.34 million in the 2001 census within its municipal corporation.The urban agglomeration of metropolitan Chennai has an estimated population over 8 million people. The city was established in the 17th century by the British, who developed it into a major urban centre and naval base. By the 20th century, it had become an important administrative centre, as the capital of the Madras Presidency. Chennai's economy has a broad industrial base in the automobile, technology, hardware manufacturing, and healthcare industries. The city is India's second largest exporter of software, information technology (IT) and information-technology-enabled services (ITES). A major chunk of India's automobile manufacturing industry is based in and around the city. Chennai accounts for 60 per cent of the country's automotive exports and is referred to as the Detroit of South Asia. Chennai hosts a large cultural event, the annual Madras Music Season, which includes performances by hundreds of artists. The city has a vibrant theatre scene and is an important centre for the Bharatanatyam, a classical dance form. The Tamil film industry, known as Kollywood, the second largest movie industry in India, is based in the city; the soundtracks of the movies dominate its music scene.
Vellore:
Vellore is a city and the administrative headquarters of Vellore District in the South Indian state of Tamil Nadu. Vellore has four zones (totally 60 wards) which covers an area of 87.915 km2 and has a population of 423,425 based on 2001 census. It is located about 145 kilometres (90 mi) west of the state capital Chennai and about 211 kilometres (131 mi) east of Karnataka capital Bengaluru. Vellore is the base of two of India's top ten educational institutions, Christian Medical College & Hospital and VIT University. It is also a major centre for medical tourism in India. Vellore region is the top exporter of finished leather goods in the country. Vellore leather accounts for more than 37% of the country's export of leather and leather-related products. Vellore is also home to several manufacturing and automobile companies such as Bharat Heavy Electricals Limited, MRF Limited, TVS-Brakes India, Tamil Nadu Industrial Explosives Limited,Greaves Cotton, ArcelorMittal Dhamm Processing, SAME Deutz-Fahr (Italy), Mitsubishi Heavy Industries (Japan) and KRAMSKI (Germany). Vellore Fort, Government Museum, Science Park, Vainu Bappu Observatory, Amirthi Zoological Park, Religious places such as Jalakandeswarar Temple, Srilakshmi Golden Temple, Big Mosque and St. John's Church and Yelagiri Hill station are the among top tourist attractions in and around Vellore.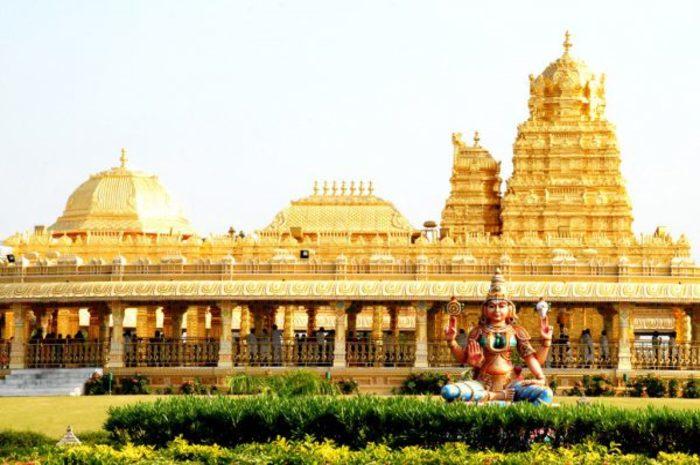 Day 1: Chennai To Kanchipuram
Pickup in Morning from Chennai, Drive to Kanchipuram. Visit to Kanchi Kamatchi Amman Temple, Varatha Raja Perumal Temple , Vaikunda Perumal Temple. In afternoon proceed to Vellore. On the way Lunch(at your own cost) and after Lunch, drive to vellore.


Day 1: Kanchipuram To Vellore
"Day-1 Vellore to Chennai(departure).Visit to Vellore Fort and Sripuram Golden temple and then drive back to chennai at your desired location. "


Day 1: Vellore To Chennai
In the evening time, drive back to chennai at your desired location.