Jamnagar & Dwarka Tour (2N3D)
Ahmedabad-Jamnagar(1N)--Dwarka(1N)--Ahmedabad(0N)--3D
Tour starts from Ahmedabad
Ahmedabad:
Ahmedabad is the largest city and former capital of Gujarat. Located on the banks of the river Sabarmati, Ahmedabad is the 5th largest city and the 7th largest metropolitan area of India.The city has an international airport – Sardar Vallabhbhai Patel International Airport. This is the seventh busiest airport in India with an average of 250 aircraft movements each day. The airport is located 8 km away from the Ahmedabad Railway Station and Central Bus Stand.Ahmedabad has deep roots considering the Independence struggle of India. Mahatma Gandhi established two ashrams namely the Sabarmati Ashram & the Kochrab Ashram that became the centers of nationalist activities during the freedom struggle. Must-do: Ahmedabad has been a foodie's paradise as there are many amazing places a person can visit to get a unique taste on their palette. Places such as Manekchowk in the old city, Khau Galli at Law Garden or even a visit to the numerous restaurants in the city can be an experience in itself.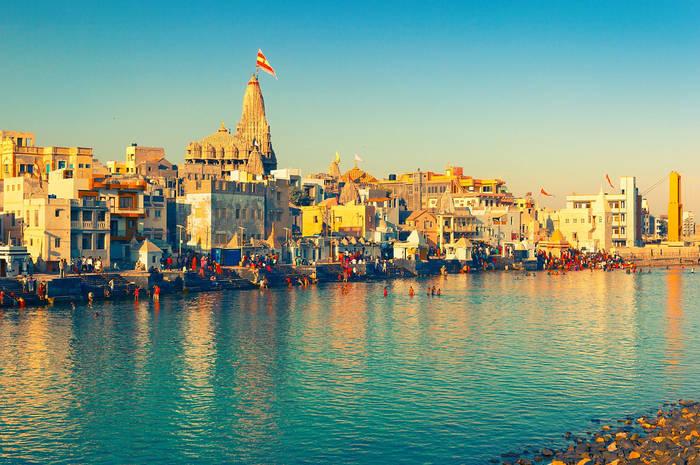 Day 1: Ahmedabad To Jamnagar
In the morning, we will drive to Dwarka. En-route visit Jamnagar and the Bala Hanuman Temple. The Bala Hanuman Temple is a holy place honoured by the devotees of Lord Ram. It is one of the famous temples acknowledged for the nonstop chanting of Jai Ram or Shri Ram. The chanting started in 1964 and since then it has never stopped. Thus, the temple has got a place for in the Guinness Book of World Records for this record. People here chant Lord Ram's name in shifts, 24 hours a day. After visit the temple, we will continue our drive to Dwarka. On arrival, check into the hotel. In the evening, we will attend Aarti and Darshan at Dwarkadhish Temple. An overnight stay in the hotel.


Day 2: Jamnagar To Dwarka
We will visit the Dwarkadhish temple for morning Aarti and Darshan early in the morning. Later, we will return back to the hotel for breakfast. After breakfast, we will transfer you to the Jetty to board the boat for Bet Dwarka. Bet Dwarka, also known as Bet Shankhoddar, is just 5 kms from Okha Junction in sea and Okha is again about 30 kms from Dwarka. The place is believed to be the one where Lord Krishna lived with his family when he ruled at Dwarka. It is also the place where Vishnu slew the demon Shankhasura. Tourists visit the Krishna temple here that holds a major religious significance. Later, we will return to jetty by boat and drive back to Dwarka. En-route, we will visit the Nageswar Mahadev temple. The Puranas mention 12 Jyotirlingas or columns of light representing Lord Shiva, who manifested himself in that form in different parts of India. This shrine of Lord Shiva near Dwarka is one of the 12 Jyotirlingas. Further, we will continue our drive to Dwarka. On arrival, check into the hotel for an overnight stay.


Day 3: Dwarka To Ahmedabad
In the morning, we will visit the Rukmani Temple – Temple of Lord Krihsna's wife. Later, we will return back to hotel for breakfast. After breakfast, we will leave for Ahmedabad. On arrival at Ahmedabad, we will drop you at your own desired location. End of the services