3-day Amritsar tour
Amritsar-Amritsar(1N)--Amritsar(1N)--Amritsar(0N)--3D
Amritsar is an important part of Punjab. This city is one of the topmost pilgrimage spots for the Sikhs.This 3-day/2-night itinerary also includes sightseeing in Amritsar including the very popular Wagah Border and Jallianwala Bagh
Amritsar:
Amritsar historically also known as Rāmdāspur and colloquially as Ambarsar, is a city in north-western part in India and the administrative headquarters of the Amritsar District located in the Majha region of the state of Punjabi. According to the 2011 census, the population of Amritsar was 1,132,761. The city is situated 217 km (135 mi) northwest of state capital Chandigarh. It is near Pakistan, with the Wagah Border being only 28 km (17.4 mi) away. The nearest city is Lahore, the second largest city in Pakistan, located 50 km (31.1 mi) to the west. Hinduism and Sikhism are the main religions of Amritsar city, practised by 49.36% and 49.00% of the total population. Amritsar is home to the Harmandir (commonly known as the Golden Temple), the spiritual and cultural centre for the Sikh religion. This important Sikh shrine attracts more visitors than the Taj Mahal with more than 100,000 visitors on weekdays alone and is the most popular destination for Non-resitent Indians (NRI) in the whole of India. The city also houses the Akal Takt, the highest seat of earthly authority of the Khalsa, and the committee responsible for the upkeep of Gurdwaras. Major attractions to Amritsar are:- • Durgiana Temple • Gobindgarh Fort • Harmandir Sahib • Jallianwala Bagh • Wagah Border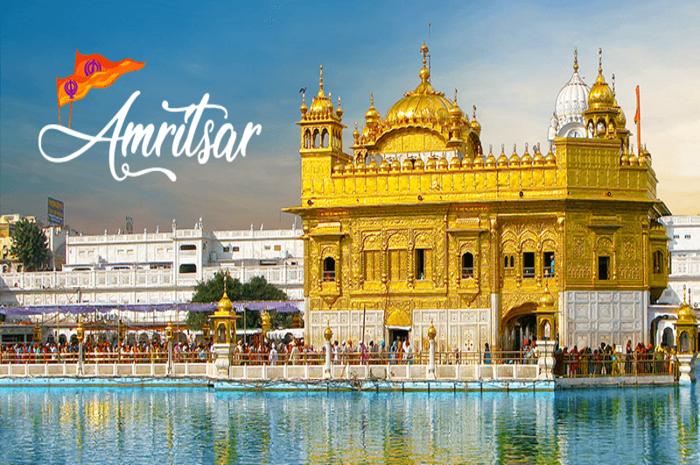 Day 1: Amritsar To Amritsar
Pick up from Rly Stn. / Airport & drive to Check-in to your Hotel .Overnight stay at hotel.


Day 2: Amritsar To Amritsar
After Breakfast visit the Golden Temple,Jallianwala Bagh, Akal Takht,Maharaja Ranjit Singh Museum,Wagah-Attari border ceremony,War Memorial Museum Amritsar,Durgiana Temple . Overnight stay at hotel.


Day 3: Amritsar To Amritsar
In time transfer and drop at Rly Stn. / Airport for onward journey.