Darjeeling Kalimpong Tour 4 Days
Siliguri-Darjeeling(1N)--Darjeeling(1N)--Kalimpong(1N)--Siliguri(0N)--4D
On 1st day pick up from your desired location and transferred to the hotel. On 2nd-day visit famous places in Darjeeling. On 3rd-day, transfer to Kalimpong and visit famous places and return back to an overnight stay in Kalimpong. On the last day departure at your desired location at New Jalpaiguri Railway Station (NJP) / Bagdogra Airport (IXB) / Tenzing Norgay Bus Stand (Junction).
Darjeeling:
Darjeeling is a hill station in the Eastern State of West Bengal. Also called the queen of hill-stations, at an altitude of 2134 m. or 7000 ft, it is a famous hill resort offering a breath taking sight of the numerous peaks of the majestic Himalayas. The clouds seem to whisper to one another here and from horizon to horizon stretches the Kanchanjunga, covered with snow from the head to foot all round the year. The views of Kanchanjunga and Mount Everest are particularly inspiring and are alone a good reason to visit Darjeeling. 90 kms from Bagdogra, and a little over a 100 kms each from Gangtok and Kalimpong, Darjeeling is well connected to the other Eastern Hill-stations. The nearest airport is at Bagdogra, 90 km away from Darjeeling. Bagdogra is connected to Delhi, Mumbai, Guwahati and Kolkata by regular flights. New Jalpaiguri is the nearest mainline railhead for Darjeeling. Gozo provides taxis for your trip to and around Darjeeling
Siliguri:
Jalpaiguri - this narrow stretch of land lying between the Sikkim - Darjeeling Himalayas and Gangetic West Bengal has more than often evoked a sense of both eerie and romanticism in many a heart since the early British Rule. Veined by mighty rivers like the Teesta,Torsa, Jaldhaka, Dyna, Neora, Sankosh etc. this piece of land has been aptly named as the land of 'Tea, Timber & Tourism'. A major stretch of area is bordered in the north by Bhutan and hence the name - DOOARS/DUARS which mean - Door of Bhutan. The name Jalpaiguri came from the word "jalpai" means "olive" which grew in the town and were seen even in 1900. The suffix "guri" means a place. The name as well be associated with Jalpesh, the presiding deity (Shiva) of the entire region. The district situated in the northern part of West Bengal has international borders with Bhutan and Bagladesh in the North and South respectively and borders with Assam and Darjeeling hills in the East, West and Northwest. Rarely one can find a place like Jalpaiguri that is so potentially rich in tourism. But a major part of it still remains to be exploited. Turbulent rivers battling out of the steep gorges, the vast stretches of forest cover, the undulating span of Tea Estates and the panoramic grandeur of the Himalayas are only a few jewels that made the British ground their roots deep into the heart of this land. Just drive around or take a hike, never will your eyes feel to rest. If a tourist is a nature lover or an admirer of Wild Life there cannot be a better place than this for him. Apart from these, there are very old temples like the Jalpeshwar and Jatileshwar. Persons seeking to smell history can take a look at the Prisoners call at the Buxa Fort area where fighters were imprisoned during the pre indepence era.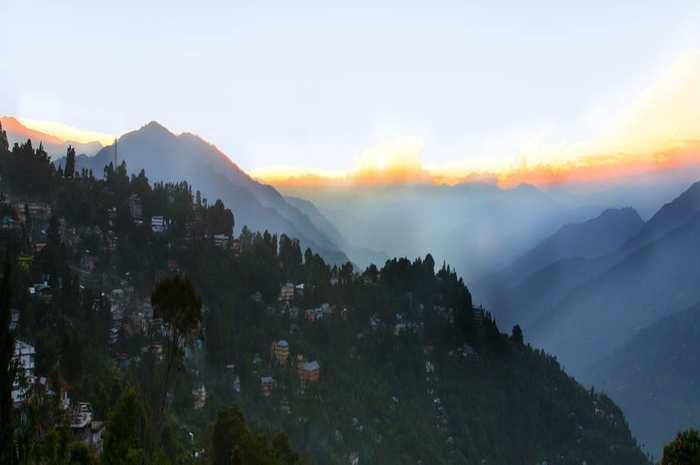 Day 1: Siliguri To Darjeeling
"Day 01: Arrival and Transfer to Darjeeling Pickup from New Jalpaiguri Railway Station (NJP) / Bagdogra Airport (IXB) / Tenzing Norgay Bus Stand (Junction) then transfer to Darjeeling nearly 105 kilometers 3 ½ - 4 hours drive – At a height of 2123 meters / 70001 feet lies the land of breathtaking beauty, sloping tea gardens with spectacular views of the Mount Everest is the Queen of the hills. Check into hotel, evening free to roam around Mall or local Shopping center - Over Night stay in Darjeeling."


Day 2: Darjeeling To Darjeeling
"Day 02: Darjeeling Local Sight Seeing Early morning at around 3:45 AM drive to 8000 feet / 2440 meters through primitive forests of oak, magnolia to Tiger Hill to view sunrise over Kanchendzonga Peak (subject to clear weather) – On the way back visit Ghoom Monastery, Peace memorial & Batasia LoopBack to hotel for breakfast - After breakfast rest for half an hour and get ready for next round of sightseeing - Half Day city tour includes Padmaja Naidu Zoological Park, Himalayan Mountaineering Institute (Closed on Thursday), Ropeway, Tenzing Gumpo Rock, Tibetan Refugee Self Help Center (Closed on Sunday), Rangeet Valley Tea Garden, Peace Pagoda – Back to hotel – Evening free to stroll around the area - Overnight stay Darjeeling."


Day 3: Darjeeling To Kalimpong
Day 03: Transfer to Kalimpong & Sightseeing at Kalimpong – After breakfast drive 65 kilometers 1 ½ - 2 hours transfer to the Kalimpong - Kalimpong situated on the foothills of the Himalayas is a green destination at an altitude of 1243 meters / 4078 feet - It is a historical destination with bustling market, colorful people and offers spectacular views of the Himalayan range – Check into hotel – Drive for sightseeing tour Deolo Hill, Hanuman Mandir, Dr Graham Homes, Mangaldham, Gumpha Monastery, Golf course, Pine View Nursery - Back to Kalimpong Hotel – Evening free to roam around the any of the hundred nurseries or the Local market area - Overnight stay at Kalimpong.


Day 4: Kalimpong To Siliguri
"Day 04: Departure – Kalimpong to Siliguri After breakfast transfer to Siliguri / New Jalpaiguri Railway Station (NJP) / Bagdogra Airport (IXB) / Tenzing Norgay Bus Stand (Junction) - Nearly 100 kilometers 3 ½ hours drive – Forwarding Journey."