Blue City (Jodhpur 2N) To Golden City (Jaisalmer 2N) (4N5D)
Jodhpur-Jaisalmer(2N)--Jodhpur(2N)--Jodhpur(0N)--5D
Enjoy a (4N/5D) tour package in Jodhpur & Jaisalmer.
Jaisalmer:
Jaisalmer nicknamed "The Golden city", is a city in the Indian state of Rajasthan, located 575 kilometres (357 mi) west of the state capital Jaipur. Once known as Jaisalmer state it is a World Heritage Site. The town stands on a ridge of yellowish sandstone, crowned by a fort, which contains the palace and several ornate Jain temples. Many of the houses and temples are finely sculptured.While Jaisalmer may always have been remote, it is filled with many artistic structures and monuments of local historical importance. Jaisalmer's medieval mud fortress and walled township make it a popular tourist destination. The surrounding desolate landscape evidences a stark, austere beauty. Camel safaris through the nearby desert dunes are popular with tourists; competition for business is fierce. Prices range wildly and one has to bargain for everything, hotel rates included. Jaisalmer is known for huge mark-ups which range between 400% to 500% depending on the product. So buying shawls, carpets, jewelry etc. can be a very time consuming and nerve rattling experience. A few quiet days spent wandering around the town and the surrounding desert can be a wonderful way of unwinding from the chaos of larger Indian cities.
Jodhpur:
Jodhpur "The Sun City" was founded by Rao Jodha, a chief of the Rathore clan, in 1459. It is named after him only. Jodhpur in Rajasthan, India was previously known as Marwar. Jodhpur is the second largest city in Rajasthan. It is divided into two parts - the old city and the new city. The old city is separated by a10 km long wall surrounding it. Also it has eight Gates leading out of it. The new city is outside the walled city. Jodhpur is a very popular tourist destination. The landscape is scenic and mesmerizing. Jodhpur city has many beautiful palaces and forts such as Mehrangarh Fort, Jaswant Thada, Umaid Bhavan Palace and Rai ka Bag Palace. Other charms of Jodhpur include Government museum and it's beautiful Umed garden. The city is known as the "Sun City" because of its bright and sunny weather throughout the year. Popular souvenirs include: • Bandhej sarees and dress material • Mojris or Jootis. Shoes with a pointed front, a must-have accessory if you plan on dressing like a Rajput Maharaja. • Handicrafts these are handmade wooden showpieces(made to look like old antiques). The handicraft industry is a booming industry in this city. • Spices and Tea Expect to pay 100-150Rs for each 200g packet of spices or 150g packet of tea. Among the highlights are the various masala mixes: different one for vegetables, rice, meat, fish, etc.; individual spices: especially cardamom, vanilla, and saffron - very high quality for a fraction of what you pay back home; tea: including the cinnamon-infused Kashmiri Khawa, masala mix to add to assam/darjeeling, and ginger tea. Be sure to stop in various different shops as each store has their own recipe for mixing their own blend. • Textiles Far better prices here for rugs, scarves, duvet covers, etc. than buying in Delhi. Scarves are the top sales item with prices varying from 50Rs to 3000Rs depending on the material (pashmina, silk, kashmir, blends, etc.) We are taking reservations for one-way cab rides from Delhi to Jodhpur. Let our experienced and knowledgeable drivers take you comfortably on your trip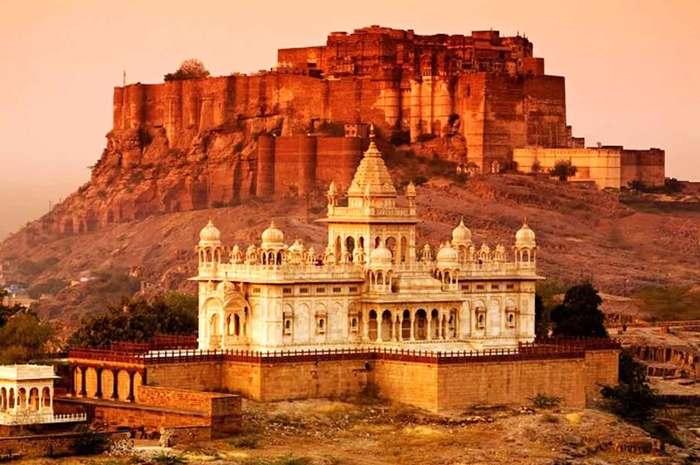 Day 1: Jodhpur To Jaisalmer
On arrival at Jodhpur check-in at hotel. Evening free for shopping around the local market. Overnight stay at hotel.

Jodhpur is known as the "Sun City" for the bright, sunny weather it enjoys round the year. It is also referred to as the "Blue City" due to the bright blue-painted houses around the Mehrangarh Fort. The old city circles and the fort is bounded by a wall with several gates. Whereas, the city has expanded very much outside the wall over the past several decades.

Next Day:- After breakfast go for a half day sightseeing tour of Jodhpur city. Visit the Mehrangarh Fort - Mehrangarh Fort, located in Jodhpur, Rajasthan, is one of the largest forts in India. The fort is situated 400 feet above the city and is enclosed by imposing thick walls, The Jaswant Thada - The Jaswant Thada is an architectural landmark located in Jodhpur. It is a white marble memorial built by Sardar Singh in 1899 in memory of Maharaja Jaswant Singh II and the Umaid Bhawan Palace - Umaid Bhawan Palace is one of the world's largest private residences. A part of the palace is managed by Taj Hotels. Named after Maharaja Umaid Singh, grandfather of the present owners of the palace, this monument has 347 rooms and serves as the principal residence of the erstwhile Jodhpur royal family.

Afternoon drive to Jaisalmer, On arrival check-in at hotel. Overnight stay at hotel.


Day 3: Jaisalmer To Jodhpur
After breakfast go for full day for sightseeing tour of Jaisalmer. Visit the Jaisalmer Fort - Jaisalmer Fort is one of the largest forts in the world. It is situated in Jaisalmer city in the Indian state of Rajasthan. It was built in 1156 AD by the Bhati Rajput ruler Rao Jaisal, from where it derives its name, Manak Chowk, Havelis, Gadisar Lake - Gadisar Lake is one of the most important tourist attractions in Jaisalmer, Rajasthan, Its charm lies in the fact that it was the only source of water for the Jaisalmer city in the olden days, and the colorful markets. In the afternoon go for an excursion to Sam Sand Dunes. In the evening take a camel safari and enjoy the sunset at sand dunes. Later drive back to Jaisalmer. Stay overnight at the hotel.

Jaisalmer was founded by Prince Jaisal Bhatti. The town stands on a ridge of yellowish sandstone, crowned by a fort, which contains the palace and several ornate Jain temples. Centuries ago Jaisalmer's strategic position on the camel train routes brought its locals enormous wealth which they spent in building intricately carved palaces and temples in golden-yellow sandstone. These fortresses of Jaisalmer also known as Havelis of Jaisalmer are like a mirage in the barren Thar Desert. On either side of the narrow lanes of Jaisalmer are the sandstone havelis, made up with stone carvings, screen windows, delicate pavilions and balconies.


Day 5: Jodhpur To Jodhpur
On this day return to Jodhpur and a half day local sight seeing and in evening release the cab.